Death Cleanup and Hoarding Cleanup after the Loss of a Loved one.
Dealing with a death of a family member or friend is difficult enough. There are many concerns and overwhelming feelings of what to do next, who to contact and how everything should be handled.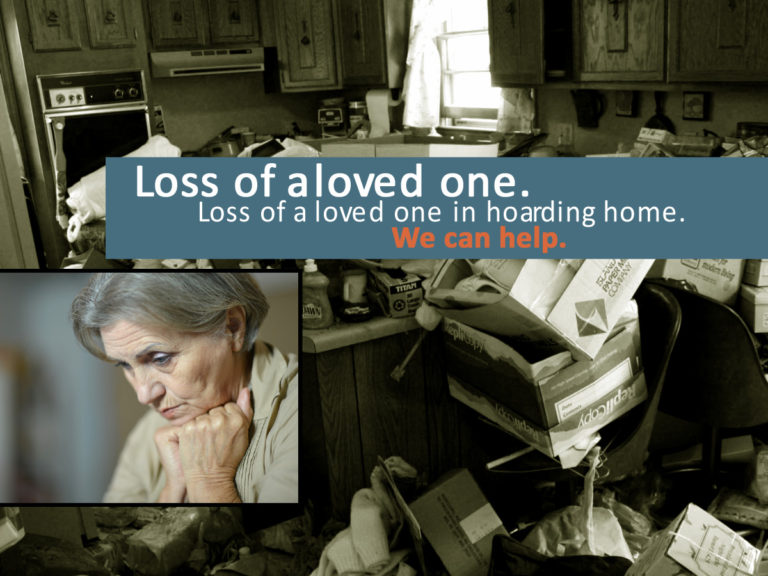 Death Cleanup and Hoarding Cleanup Protective Measures
It is always important to be cautious around blood, and ensure that any biohazardous materials are cleaned up thoroughly and efficiently. Hoarding cleanup is a very challenging situation. Hoarding Cleanup sometimes involves infestations of animals feces and droppings, mold and bacteria that can cause serious health concerns including Staph, E. coli, Hantavirus and Histoplasmosis to name a few.
If you plan to do the Hoarding Cleanup yourself there are some protective measures you SHOULD take. Wear protective clothing and use equipment when exposed to any part of the home. Create categories such as "keep", "donate" and "trash" to help you sort out the items. Create pathways for walking in order to avoid falling or tripping during the removal of the items in the home.
If a suicide or death has occurred in the home and blood cleanup or removal of bodily fluid is also necessary cleaning the home properly is crucial to prevent the spread of disease and other potential health risks. Bloodborne pathogens can be deadly, there's no specific way to know if another individual carries them and in many cases, the person themselves may be unaware they are a carrier.
Bloodborne pathogens exist in human blood, and can spread diseases from one human to another when proper precautions aren't taken to clean up an area after an accident or a crime.
Having a plan in place can help to provide additional reassurance to everyone involved. We know these incidents can often be traumatizing and dangerous, we are here for you and we do all we can to keep you and your family safe from infectious diseases. We are the experts that provide hoarding cleanup services with understanding and care. Call us to assist you and answer any question you have.
Contact HazStat when you need assistance in blood cleanup, biohazard cleanup, trauma scene cleanup, suicide and unattended death. We are here for you with compassion and provide the highest level of respect and professionalism.
HazStat is here for you with and can assist you with biohazard cleanup in Orlando, Tampa and Jacksonville after a suicide, murder, or accident. Our professional team of highly trained individuals can sterilize your home and prevent the potential of bloodborne pathogens from spreading or infecting other areas or coming into contact with anyone in the home. Call: 1.855.HAZSTAT (1.855.429.7828).  www.hazstat.com.