VOLUSIA COUNTY BIOHAZARD CLEANUP
Biohazards refer to biological substances that pose a threat to one's health. Blood and bodily fluids should be cleaned and removed by a trusted and qualified biohazard cleanup company. By hiring a trained provider you avoid potential safety risks of exposure to bloodborne diseases like Hepatitis B, Hepatitis C and HIV.
HAZstat specializes in home, commercial property, and auto biological cleanup in Florida.  
Volusia County
Professional Biohazard Cleanup Services
Thank you for visiting our Volusia County Services page. If you have any questions please contact us and also take a look at our Frequently Asked Questions below. 
Our Specialized Services for you
At HAZstat we provide specialized services for cleaning up blood and bodily fluids from accidents, suicide, unattended death, trauma, or crime scenes in Florida.
Blood, urine, feces, and other bodily fluids contain several disease vectors and all the contaminated areas should be considered potentially hazardous. Over time, these biological wastes may start to decompose and lead to the spread of insects, bacteria, and other pathogens. Our services include the removal of all bloodstains, urine, feces, and other biological remnants of the unfortunate incident while handling the situation with the utmost compassion.
Our Biohazard Cleaning Services in Volusia County include:
What to Expect from Us:
We restore your property to sanitary condition so that you can live safely and get through the distressing aftermath of the incident.
Blood and bodily fluid cleanup should be handled by a team that has the required expertise as well as knowledge of the proper procedure. At HAZstat, we follow a systematic approach to thoroughly clean the area, eliminate contamination, and remove any foul odors.

Our team understands that such situations call for immediate action, therefore, our professional cleaners are available 24/7 throughout the year. We are here for you and respond quickly and discretely.   
Owner, Landon Thomas works with you with the utmost care and compassion to ensure you are taken care of respectfully and honestly. HAZstat is family owned and operated (not outsourced) like some companies so you can be sure you get someone that CARES and UNDERSTANDS what your needs are during this difficult time. 
1. Contact us now to discuss your immediate needs.
2. We will guide you through the process including any guidance in insurance claims.
3. We will discuss options with you and begin sanitation services based on your needs..
Most frequent questions and answers
Why Hire Us for Disinfection Services for COVID-19 (coronavirus), MRSA, C-Diff, and other viruses in Volusia County?

The professional cleaners at HAZstat have extensive experience in restoring a safe and clean environment at business facilities across Volusia County. Our in-depth cleaning services can effectively decontaminate and eliminate the biohazards, making the place completely inhabitable after a bacterial or viral outbreak. We understand that standard cleaning procedures are not effective at completely eradicating lethal pathogens like MRSA, C-Diff, Staph, Hepatitis, HIV and COVID-19 etc. That is why, we use industry-leading cleaning agents and techniques to eliminate the potential threats as well as sanitize the facility.
Risks Of Improper Blood & Bodily Fluids Cleanup
When you require blood and bodily fluids cleaning services in Volusia County, you should always contact a professional. Handling the cleaning process yourself can be dangerous and put you as well as your family members at risk of contracting various infectious diseases. Here's why you should not attempt to clean these biohazard wastes yourself: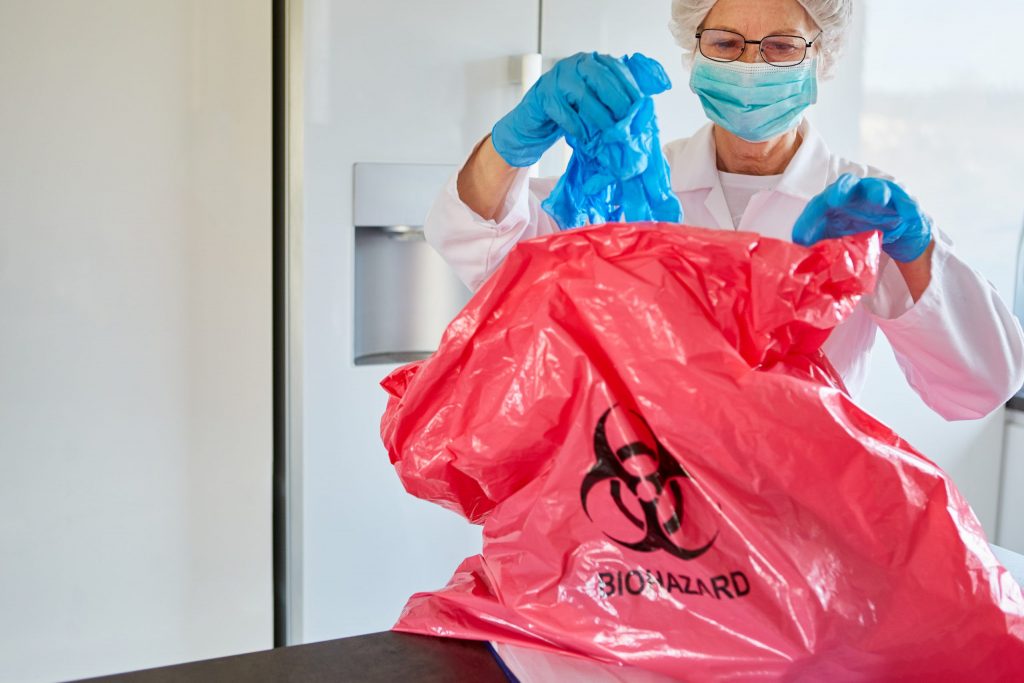 Direct contact with blood can put you at risk for contracting various medical conditions, such as HIV, Hepatitis B, and Hepatitis C.
It may lead to cross-contamination and further spread the blood-borne pathogens to other areas of the property.
Exposure to feces can transmit infectious diseases such as Hepatitis A, Salmonella, Hantavirus, etc.
Improper cleaning can leave lingering stains and foul smells.
Bodily fluids contain acidic content that may not be efficiently removed with typical household cleaning agents.
Why Choose HAZstat For Biohazard Cleanup In Volusia County?
Access to specialized equipment, protective gear, and efficient cleaning solutions
Licensed and fully insured cleaning professionals
Quick response time within Florida
Insurance accepted
Unmarked vehicles for discretion and privacy
Proper removal, packaging, and disposal of biohazard wastes
Registered with Florida Department of Health
20 Year of Experience
Owner involvement throughout process
Volusia County Service Area